From The Globe and Mail
One of New Zealand's biggest cities lay in ruins Tuesday after a powerful earthquake toppled tall buildings and churches on a busy weekday, killing at least 65 people in the country's worst natural disaster in decades.
More than 100 people are still thought to be trapped in the rubble in Christchurch. Rescue crews with sniffer dogs fanned out across the city in search of survivors, some of whom were able to send text messages or make phone calls from under the wreckage.
It was the second major quake to hit Christchurch, a city of 350,000, in five months, though Tuesday's temblor caused far more destruction than a stronger September quake that struck before dawn on a weekend.
Nathanael Boehm, a web designer, said he was standing near a tram track when the quake struck just before 1 p.m., sending the eaves of buildings cascading onto the street below. "It was horrific. People were covered in rubble, covered in several tons of concrete,". Boehm said, adding that he believed some of them had been crushed to death.
Christchurch Mayor Bob Parker declared a state of emergency and ordered people to evacuate the city centre. He said it was impossible to say how many people were trapped in the rubble, but it was more than 100.
The GCP event was set for 24 hours, beginning at 11 AM local time (22:00 Feb 20 to 22:00 Feb 21 UTC). The result is 86872 on 86400 df for p = 0.12843 and Z = 1.1338.
We note that this event coincides with some of the worst moments of upheaval in the middle east, with the Libyan regime apparently killing many people in Tripoli and other parts of the country.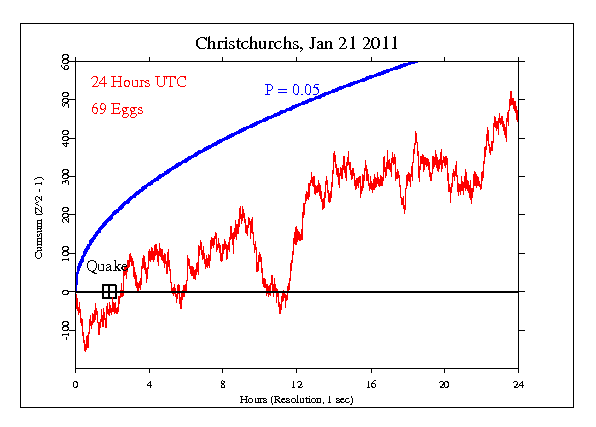 It is important to keep in mind that we have only a tiny statistical effect, so that it is always hard to distinguish signal from noise. This means that every "success" might be largely driven by chance, and every "null" might include a real signal overwhelmed by noise. In the long run, a real effect can be identified only by patiently accumulating replications of similar analyses.