Adapted from Huff Post World:
The tragedy of a deadly fire in a nightclub January 27th continued to send shock waves through Santa Maria, a college town of 260,000 people that was stunned by the early Sunday morning tragedy in the Kiss nightclub.
The Rio Grande do Sul state forensics department raised the death toll Tuesday from 231 to 234 to account for three victims who did not appear on the original list of the dead. Authorities say more than 120 people remain hospitalized for smoke inhalation and burns, with dozens of them in critical condition.
The blaze began at around 2:30 am local time, during a performance by Gurizada Fandangueira, a country music band that had made the use of pyrotechnics a trademark of their shows.
Police have said the club's ceiling was covered with an insulating foam made from a combustible material that appeared to have ignited after it came in contact with a spark from a flare lit during the performance. After the fire extinguisher malfunctioned, the blaze spread throughout the packed club at lightning speed, emitting a thick, toxic smoke. Because Kiss apparently had neither an alarm nor a sprinkler system and only one working exit, the crowd was left to search desperately for a way out.
The GCP event was suggested by several different people, one of whom gave specifications: 6 hours beginning 30 minutes before the fire started. News reports indicate that was 2:30 am, so the GCP event was set for 0200 to 0800 local time (UTC 04:00 to 10:00). The result is Chisquare 21521.840 on 21600 for p = 0.646 and Z = -0.373.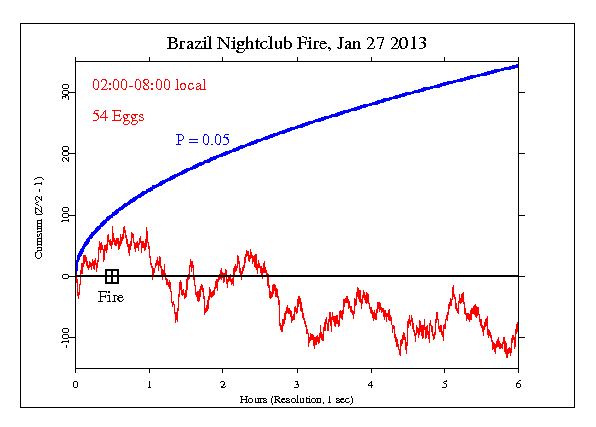 It is important to keep in mind that we have only a tiny statistical effect, so that it is always hard to distinguish signal from noise. This means that every "success" might be largely driven by chance, and every "null" might include a real signal overwhelmed by noise. In the long run, a real effect can be identified only by patiently accumulating replications of similar analyses.